Situation
Crisp Code began maintaining and incrementally improving the FITS Riding website in early 2007. While the site looked good, and functioned great, it was still lacking some stuff, not built in a CMS, and was difficult to navigate from small mobile devices. FITS wanted to add a blog, multi-level authentication, and the ability to maintain content themselves.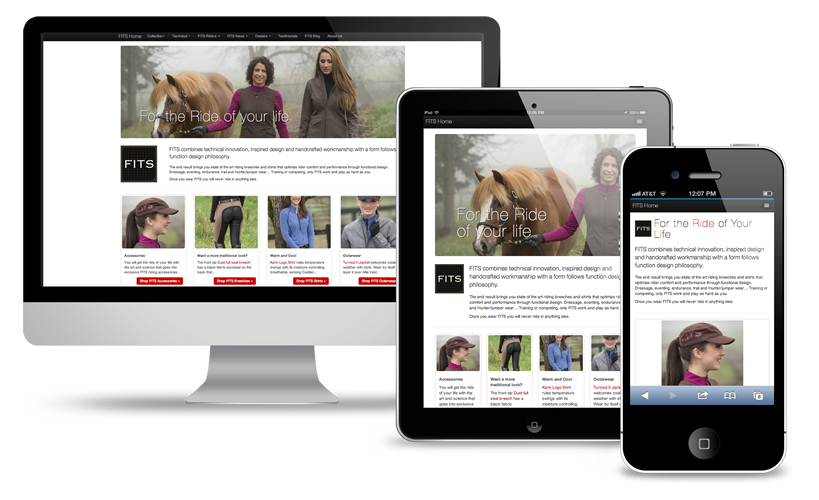 Solution
FITS knew they wanted a CMS but were unsure of what they needed. While talented at the drawing board and sewing machine, they are uncomfortable with technology, so ease of use was a paramount feature in choosing a CMS. We sat down with FITS to fully evaluate their current and future needs, leading us to recommended the ExpressionEngine CMS. We felt ExpressionEngine's 100% customizable backend and support for future expansion was a natural fit. We created a new simple data structure and redesigned the site to feature a "responsive" design. FITS Riding features multiple blogs, newsletter signups, multi-lingual support, ability to accommodate e-commerce platforms, calendar of events, recorded video streaming, and more.
Library - FITS products are often featured in leading equestrian publications, webisodes, and blogs. We created a series of dynamic media pages that enable FITS staff to upload PDFs, video clips, documents, and other media to the site efficiently.
Catalog - Beautiful technical apparel deserves a beautiful technical site. We created a consistent but flexible design to showcase the heart of the FITS site. Non-technical users can update the catalog whether the item comes in one color or eight. Resizing and optimizing photos is always a problem for CMSs, but this tool creates each of the images needed on the fly as FITS team uploads a photo. But wait there's more - each size is still editable within the tool!
Social Media - FITS customers are active on social media. FITS is active as well and the new site had pass muster. Pin, Like, Tweet and Plus just about every element of the site; sign-up for giveaways and newsletters, it is all here only a click or touch to connect.